This savory Torta is similar to a quiche and is perfect as a side for easter dinner or as a starter!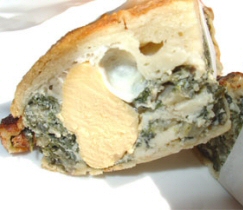 Torta Pasqualina


400 g White flour

2 Tablespoonfuls extra virgin olive oil
Salt Water For the filling
1 Tablespoonful fresh marjoram
4 Tablespoonfuls grated Parmesan cheese
4 Tablespoonfuls grated Pecorino cheese
Salt and pepper

Method:

Mix the flour with olive oil and salt, and then gradually add as much tepid water as you need to get a soft, solid mixture.

Knead the pastry until you see some little bubbles in it and then let it stand under a moist cloth – if you wish to save time, you can use frozen flaky pastry. Roll out the pastry with a rolling pin to obtain 6 layers, which need to be as thin as possible. Clean the chard and cook it on a low heat for 6 minutes.

Then squeeze water out of it, chop it thinly and put it into a big bowl. Add the crumbled ricotta cheese, 2 eggs, the grated Parmesan cheese, 2 tablespoonfuls of Pecorino and the marjoram: if the mixture is too stiff, soften it with milk.

Line an oiled mould with a layer of pastry and oil the layer itself with a pastry brush, repeating the procedure with 2 further layers – remember not to oil the last one). Lay the filling on the top and dig 4 holes with a tablespoon, then place the raw eggs into them. Season with salt and dust with the remaining Pecorino.

Cover with a layer of pastry and then lay 2 further layers upon it, always oiling the top of each layer. Seal with the pastry left-overs forming a thick border all around the pie. Oil the top and puncture it with a toothpick, paying attention not to break the eggs. Put the pie in the pre-warmed oven at 200° C for 40 minutes.

The torta pasqualina can be served tepid or cool, and it's ideal for Easter Monday lunch.