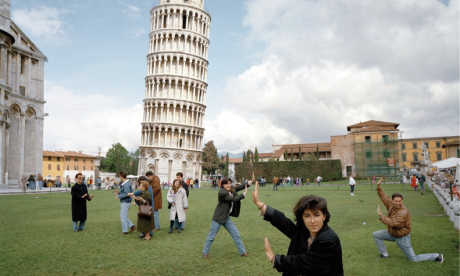 The Leaning Tower of Pisa by Martin Parr
All our aspiring chefs joining us for a Flavours Italian cooking holidayin Tuscany find themselves arriving at Pisa airport. We decided to put together a city guide to give you an idea of the great things there are to do in this often overlooked city!

If you are planning a travel to Tuscany, you must pay a visit to the beautiful city of Pisa. Summer and the cooler days at the onset of Autumn are the perfect times to appreciate the city in all its splendour. Many people don't realise that Pisa is close to the sea and some beautful beaches such as Viareggio so it's the perfect spot for a summer break or during the gloden Tuscan autumn you can lose yourself in the unique colours of its hills that make this area so known the world over.
One day can be sufficient to see most attractions of Pisa city centre; however, if you want to enjoy at best the beauty of its countryside and seacoast, you should allow at least 2 or 3 days.

One-day tour of Pisa


Start your day from Ponte di Mezzo, previously called "Ponte Vecchio" (old bridge), the most ancient bridge in the city crossing the Arno River. At the north end of the bridge, you will find Piazza Garibaldi. Go on along Borgo Stretto, one of the main medieval streets of Pisa, and have a look at the beautiful Gothic–Romanesque church of S.Michele in Borgo. You will then arrive at Piazza dei Cavalieri (Knights' Square), the core of the ancient republican Pisa, where you can admire some magnificent buildings designed by the architect Giorgio Vasari. Don't miss the superb Palazzo dei Cavalieri (Knights' Palace), now seat of the Scuola Normale Superiore, an élite institution for teaching and research founded by Napoleon in 1810. In front of Palazzo dei Cavalieri you can see other 2 masterpieces by Vasari, the Fontana di Francavilla (a fountain dating back to 1596) and the impressive Palazzo dell'Orologio (Clock tower). Worth-seeing is also the beautiful Church of S.Stefano dei Cavalieri.
The next stop will be at Piazza del Duomo, also known as Piazza dei Miracoli (Square of Miracles), where you can admire some of the highest examples of Pisan Romanesque style and pay a visit to the real "symbols" of Pisa. Indeed, the square is one of the most significant and most visited monumental complexes in Italy. You'll be definitely amazed by the majestic Cathedral, the Baptistery, the Cemetery and of course the spectacular Bell Tower, known worldwide as the Leaning Tower.
Although intended to stand vertically, the tower began leaning to the southeast soon after the onset of construction in 1173 due to a poorly laid foundation and loose
substrate
that has allowed the foundation to shift direction. The tower presently leans to the southwest. Due to it's fame this area can seem a bit of a tourist trap, so to escape you could pay a visit to the small church of
Santa Maria della Spina
, attributed to Lupo di Francesco (1230), an excellent example of Gothic building: You can admire it while strolling along the beautiful riverside (the so called "Lungoarno"), which is worth seeing as well.
The cuisine of Pisa
Like Tuscan cookery in general, the cuisine of Pisa perfectly mirrors the forceful character of its inhabitants, having originated in a genuine peasant culture where being simple never means being poor. Tuscan dishes can significantly vary from one city to another, yet the basic ingredients are essentially the same everywhere in Tuscany: beans, peas, chestnuts, game (especially birds) and pork.
Nonetheless, the cuisine of Pisa maintains its own specific character and offers a wide choice of traditional dishes: the most typical first courses are usually minestra di fagioli bianchi di S.Michele (a delicious soup made with navy beans), bavettine sul pesce (thin long strands of pasta – like linguine - with seafood), zuppa di ranocchi (a traditional soup with frogs) and risotto con le arselle (rice cooked in stock with clams).
If you would like some fish as a second course, definetly recommended is the exquisite muggine della foce dell'Arno alla griglia (grilled mullet from the mouth of the River Arno), cee alla pisana (stewed newborn eels), pesce ragno bollito (poached spotted weever) and baccalà o stoccafisso in agrodolce (sweet-and-sour salted cod or stockfish).
Of course any dish can be matched with one of the excellent DOC and DOCG wines produced in the area, such as a full-bodied Chianti (ideal with meat courses) or a white Bianco Pisano (perfect along with fish).
Why not try one of this traditional dishes of Pisa before you go!


Minestra Di Fagioli Bianchi

Navy beans (about 100 g per person)
Any type of small pasta (such as elbow macaroni)
Extra-virgin olive oil
2 big cloves of garlic
1 small bunch of sage
2 tablespoonfuls tomato sauce
Boil the navy beans slowly. Meanwhile brown 2 cloves of garlic and a glass of oil in a saucepan. Add the sage leaves to the oil and a ladleful of bean broth, after having diluted it with two tablespoonfuls of tomato sauce. Sieve the beans and add the resulting bean mash to the sauce. Boil for 10 minutes and then add the pasta, cooking it for 10-15 minutes depending on the type you choose.

350 g linguine pasta
600 g seafood normally used for fish soup – choose at least 3 different types of fish among scorpion fish, sole, hake, mullet and weaver).
300 g peeled tomatoes
2 onions
Parsley
Chilli pepper
Olive oil
Salt to taste

Clean the fish and poach it in a little salted water, adding some parsley and 2 onion halves. Then remove the fish and filter the broth. Remove fish bones and then whisk all the fish.
Meanwhile brown a thinly chopped onion in a saucepan with 6 tablespoonfuls of oil and a pinch of chilli pepper. Add the peeled tomatoes, salt and then cook for 10 minutes. Then add the fish cream and some of the fish broth, bearing in mind that the resulting sauce must be very creamy.
Cook the linguine until they become just slightly firm and then sauté them in the fish sauce. Scatter with parsley and serve hot.